Welcome to Mark Thomas Productions
A Full Service Video Production Company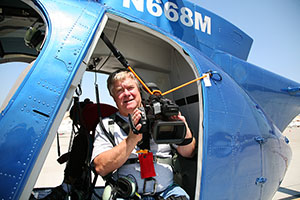 Although Mark Thomas Productions is based in Orange County, California and La Paz, Mexico, many of its clients hail from other countries such as Italy, France, South Africa, Mexico and India representing diverse industries. From charity organizations in India and Mexico to wine associations in South Africa and medical industries in Europe, Mark Thomas Productions has furnished its clientele with productions that positively promote their endeavors, products and services.
Mark Thomas Productions travels globally to cover various types of corporate events. Our specialties, among others, are Re-cap shows for corporate events, whereby the Mark Thomas Productions team shoots an event over a period of days and then, on-site, creates videos highlighting the entire event. We utilize the latest advancements in video technology, such as Sony's HD XDCAM professional video cameras and Canon's professional still cameras, along with portable editing systems to create polished, professional productions on-site.
Simply stated, Mark Thomas Productions travels the world to make its clients' visions a reality.


Mark Thomas Productions provided our company with great leverage and professionalism in helping to produce a first class video memorializing our special event. Not only did Mark bring creativity to bear in developing the script, but delivered the finished product on-time and on-budget. We look forward to our next project with him.