About Mark Thomas Productions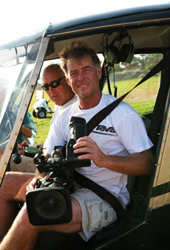 At the helm, setting the standard, is Mark Megonigal, President and Producer for Mark Thomas Productions. For over twenty years, Mark has steered Mark Thomas Productions through vast changes in technology and the volatile economy. Continual attention to detail and customer satisfaction have been his guiding principles. These principles, he believes, are what set him apart from his competitors and lead him forward on the path to creating quality video productions that Mark Thomas Productions is know for.
Mark and his team strive to be number one in customer service and product quality. At a recent video production conference he said, "We always go the extra mile to meet and surpass the expectations of our clients. That is why so many of our productions are for repeat customers. Most of my clients are now great friends from repeat business over the years. I keep their video projects as a template so as their business expands, I can update their videos for their websites or events and keep the costs low. I've always said: 'No job too small, no fee too large!'"